My sister was not-so-subtly admiring some felted trinket bowls on Etsy this fall, so I made her a set for Christmas. This was my first dyeing project, and first felting project.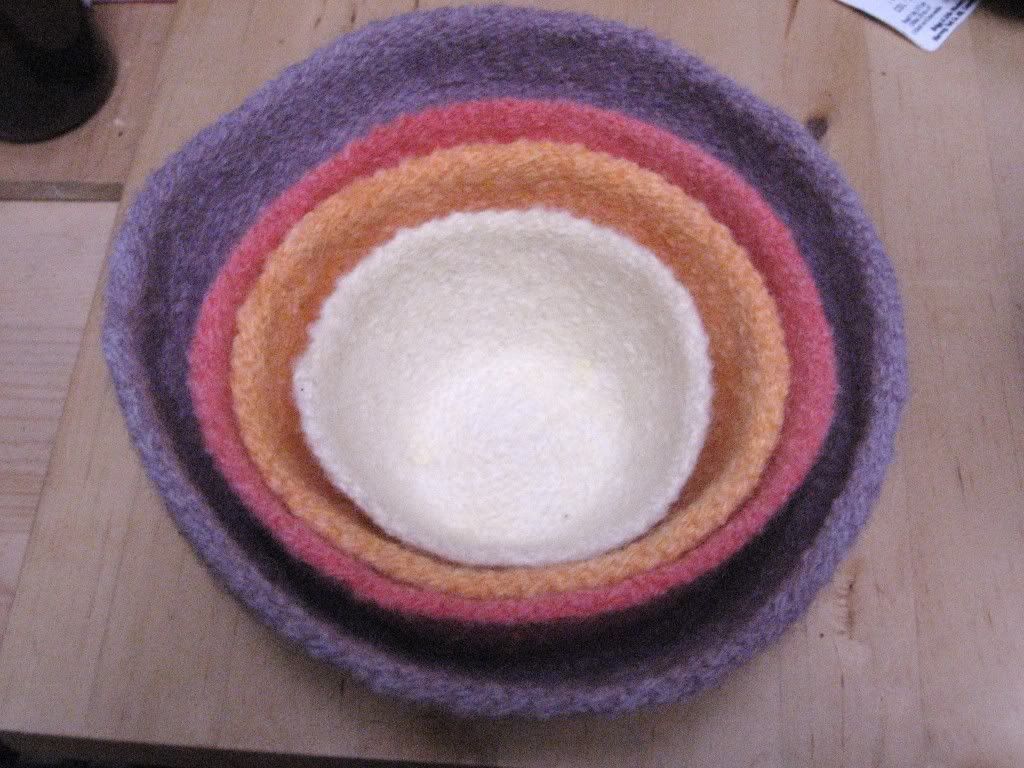 The knitting was very straightforward, and took only a few days to do all four bowls. The dyeing was the most difficult step -- I could not find Kool Aid anywhere in Montreal! I did manage to get some on a little trip to upstate New York, so I was happy about that. I usaed grape, cherry orange, and lemonade. The cherry took the fastest; lemonade had the least effect.
I was planning to felt by hand, so I had an idea to make the job a bit easier. Felting is caused by shocking wool (immersing it in very hot, then very cold water) and applying friction -- so I bought a pair of exfoliating gloves from the dollarstore. They're meant to be used in the shower, but why not use them on the bowls? It did go fairly well, but jeez, hand-felting is tiring! It took two sessions to fully felt the bowls and I worked up a sweat within the first two minutes.
After the two felting sessions, the largest bowl was still a bit floppy, so I sprayed all of the bowls with starch while they were drying. It is still a lottle wobbly, but the three smaller bowls are fine.
Yarn: Garnstudio DROPS Alaska, natural/undyed (3 skeins)
Needles: 6 mm
Pattern:
Felted Nesting Bowls
by Alice Themla
Overall, I'm very pleased. And my sister loved the bowls!