A few weeks ago, we had to make a batch of homemade dog food. Our local pet store took a longer holiday than we expected, and poor Monsteress ran out of food.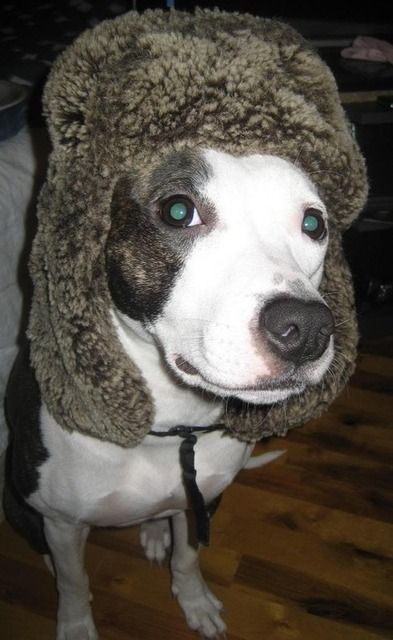 She is a 3-year-old American Staffordshire and is pretty small: 40lbs. We feed her what we consider the best food available (and I'm happy to support a family-owned Canadian company!):
Orijens dog food.
We usually feed her one cup of kibble for breakfast and one cup with dinner. Dinner is supplemented with fresh veggies (her favourite treat) or the occasional raw egg.
I started with
this "basic dog food" recipe
(on the right sidebar) but tweaked it for greater portions of meat and veggies. Here's what I ended up making:
Monsteress's Mash
9 cups water
4 cups uncooked brown rice
1/4 cup oats
275 grams ground lamb
500 grams ground beef (medium leanness)
1 tablespoon olive oil
1 head broccoli, diced
1 green pepper, diced
1 small sweet potato, diced
2 carrots, diced
1-2 tablespooons peanut butter
Combine water, oats, rice, and sweet potato in large pot. Bring to a rolling boil, then reduce heat to low-med. Add meat, oil, and half of the broccoli, green pepper, and carrots; put the remaining veggies in a sealed container to use as fresh garnish. Continue cooking approx 30 minutes or until the liquid is all absorbed. Stir in peanut butter and let cool. Keep refrigerated.
NOTE: the medium ground beef and the lamb were nice and fatty. If using lean beef or poultry, you'll want to add a bit more oil.
It was tempting to add some flavour so it would smell good while cooking, but I reminded myself it was for the dog, not me. Chicken broth would probably make it really yummy, but it would add salt that she doesn't need.
This made a large batch which lasted almost a week. We fed her 1.25-1.5 cups of the mash, topped with the fresh veggies or a raw egg for each meal. We of course also mixed in the remaining kibble for the first few meals, and added a bit of fresh kibble to the last few meals of the batch -- didn't want to switch her diet too suddenly. She ate every last bite!