As I often mention, I am trying to learn a new skill with each project. Well, I got really excited about cables a few weeks ago, and found the perfect small project to do so:
Pattern:
Give a Hoot
by Kelbourne Woolens
Yarn: Garnstudio Drops Alaska (100% wool)
Needles: 4mm and 5mm
New skill: CABLES!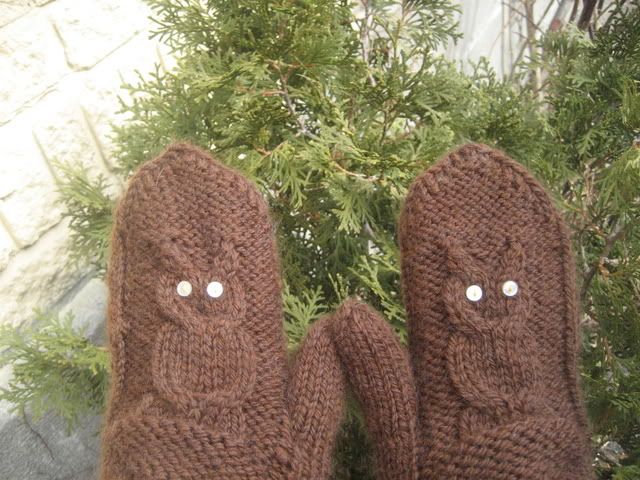 I'm not yet ready to knit
the owl sweater
, so these mittens were just enough to satiate me.
The pattern is very well-written. It does produce a rather small mitten, but this can be easily fixed. Since I have long, slim hands, I just needed to lengthen mine by knitting an extra round of knit stitches before the gusset increases, and a few extra repeats of rows 14 and 28. I also made long cuffs that can be tucked into my sleeves. The yarn was alright. It made a nice and sturdy pair of mittens, but I wouldn't use it for a garment (except outerwear).
I went to
RixRax
to get the teeny tiny buttons for the eyes. I always love that store -- so many possibilities! -- but I don't think I will be going there again. The store is wonderful, but the service is severly lacking; it's the kind of store where you feel like you're not wanted. So I will spend my money elsewhere!
After wearing those mitts for a few cozy weeks, Spring is in the air, so they will be retired shortly. Don't worry, I've already knit some armwarmers!
Oh yeah, and cables? Easy peasy. The directions in this pattern make it absolutely clear and terror-free. I used a DPN for them, but my sis has since sent me some cable needles.