I participated in my first ever swap this summer, with the lovely ladies of Montreal Knits. The price range was $20-30, and we were supposed to send a knitted item -- though this wasn't entirely clear to me at first, ha, and I know I'm not the only one. Personally, I knit a couple of small items because I wanted to send some gorgeous yarn to my partner.
I haven't actually
met
any of the group members yet, but am hoping to start going to their Knit Nites now that I am done school. My partner
really
spoiled me, exceeding all expectations! Check it out: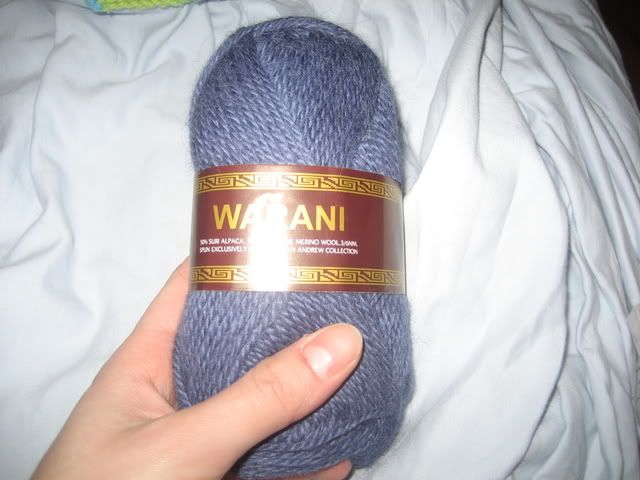 BEAUTIFUL Warani yarn. 50% Suri Alpaca, 50% Extra Fine Merino. It is so luxurious and I love the colour! I am going to try to hunt down another skein, or one in a complimenting colour, perhaps to make some mitts for myself. Haven't really decided on a project, but it is gorgeous, and I'll need to find it asap as the distributer has discontinued it.
Yeah, I am flashing Wu-Tang as I model these fingerless mitts! I spent Thursday transcribing part of a Wu-Tang documentary at work, so decided to show my support as Jack snapped a pic of these mitts. They are a perfect fit, and are exactly my colours. I am looking forward to wearing these on my autumn bike rides to and from work. Jack really likes em too, and I suspect he'd like his own pair..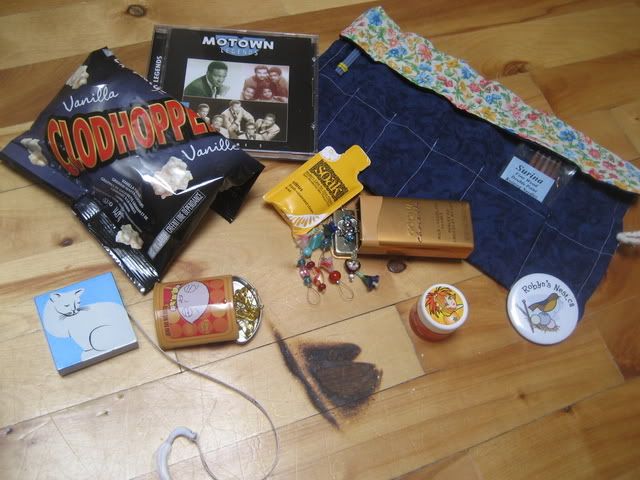 WOAH! SO MANY GOODIES! Nifty spring-less safety pins (I have been wanting these, but haven't seen them in my travels), gorgeous handmade beaded stitch counters, yummy lip gloss, fine fibre wash, tape measurer, handmade DPN holder (so clever! I'm so glad to have this!), 2 sets of DPNs, Robyn's Nest magnet, Motown CD, and Vanilla Clodhoppers! Yeah, those have almost all been eaten. I have already used the handmade stitch markers, and they work really well! They have me considering a new technique for making stitch markers (note the cool Stewie and Godiva tins holding the stitch holders),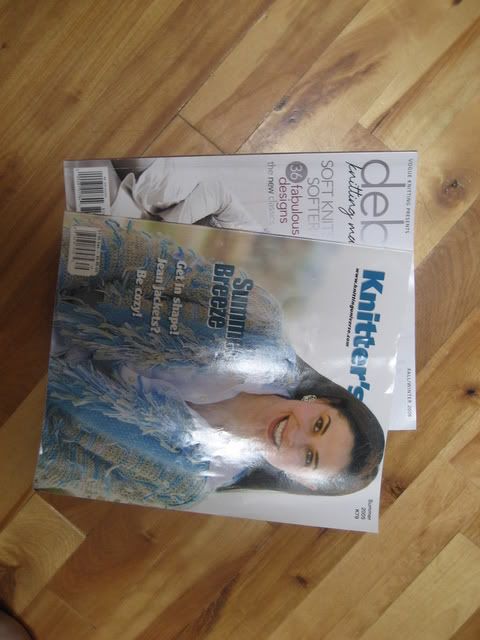 MY FIRST KNITTING MAGAZINES. I am really excited about these! Have already marked off some interesting patterns, and I can't wait to read all of the articles and tips. Being a self-taught knitter, this is exciting for me. I am considering asking for a subscription for Christmas, so this is a great chance to check out 2 major knitting magazines.
Honestly, it is like she looked at the survey that I filled out at the start of the swap and managed to pick out all of my favourite items. I am so, so pleased and thankful for everything.
I sent off my package today -- it was ready to go earlier this week, except for stitch markers.. I couldn't find my wire to make them! But we did a big clean-up yesterday and of course the wire turned up. So I made the stitch markers this morning, and posted the parcel. I won't say anything else about it though, just in case..!