Finally, she posts a FO!
I have been very busy lately and haven't had time to knit (sob!) BUT I just had the last class of my undergraduate career.. Only one last exam! It has been fun and I love being in school (still trying to figure out how to be a professional student), but I am ready for some real world action. Anyway, on to the knitting!!
Project:
Shoulder Warmer
Pattern
Anthropologie-Inspired Capelet
, by Julia Allen
New Skills
: Err.. "Knitting a garment in 2 days" is a skill, yeah?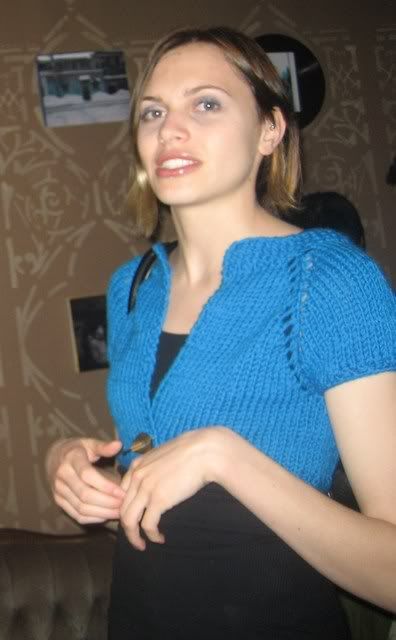 I obviously was in the middle of talking to someone in the above picture, so excuse the funny face!
The English editor inside me feels the need to say that this is not a caplet, but the misnomer can be traced back to Anthropologie, so don't give me any flack!
This was a great pattern, and knit up quite quickly. The yarn was also quite nice; I love the colour and it is so squishy!! It was a bit itchy when I first tried it on, but it feels great after washing and blocking. All in all, this was a quick and satisfying knit. I kept track of my notes, in case anyone else plans to knit this with worsted-weight yarn. I hope that someone finds this helpful:
Size: Small
Yarn: 5 balls of Jojoland worsted-weight wool (100m/110y per ball). I finished the body with four balls, but needed to use a fifth to BO the body and hem the sleeves.
Needles: 6.5mm
Gauge: approx. 7 sts over 2"
NOTE: You will have quite a few stitches on your needles if you use straights; it might be easier to work this back and forth on circs.
Holding yarn double-standed, CO 56sts on 6.5mm needles.
Work seven rows seed stitch.
Begin raglan (I placed my stitch markers as follows--
Row 1, RS: [2st seed border], K7, yo, pm, K1, pm, yo, K8, yo, pm, K1, pm, yo, K18, yo, pm, K1, pm, yo, K8, yo, pm, K1, pm, yo, K7, [2st seed border]
)
You will knit rows 2&3 a total of 13-14x, until each sleeve has 34 or 36sts.
Separate sleeve stitches and place on waste yarn. Continue stockingette body for another 3.5", then do 2 rows seed st and BO.
Finish sleeves with 2 rows seed st and BO.