I wanted to knit a light, lovely scarf for my Great Aunt Jenny who is dying of cancer. She lives in England and I can't go visit, but I wanted to send her a tangible expression of love, comfort, and well wishes.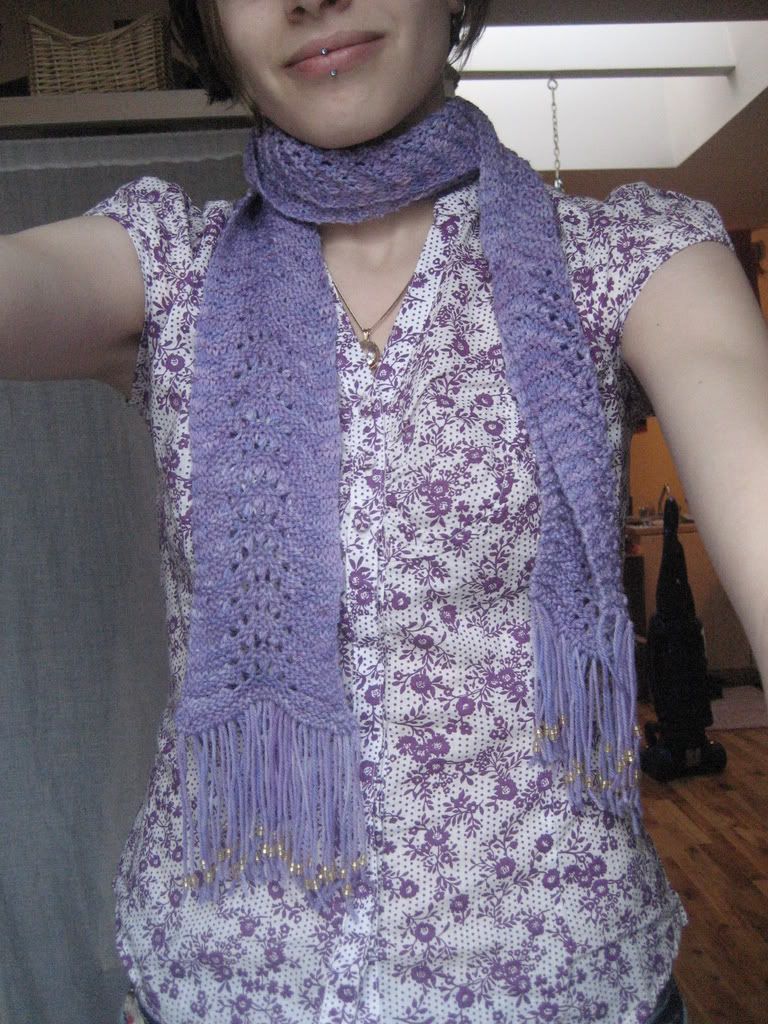 Project:
Jenny's Scarf
Pattern:
Easy Lace Scarf
by Knitters Review
Made for:
Aunt Jenny
New skill:
Lace knitting, beaded fringe
I had a moment of panic while knitting -- what if wool is irritable to cancer patients? Would a lace scarf be appropriate for springtime on the southern English coast? I was reassured, and finished knitting it a few days later. I used some lovely sock yarn that was hand-dyed by a local fiber artist. I highly recommend the yarn -- the colours are gorgeous, the price is right, AND this 80% wool -- 20% nylon blend is machine washable and dryable. Check out
Tanis Fiber Arts on Etsy
.
After blocking, the scarf measured 6' (before blocking, it was as long as my desk at work, I'll have to measure that on Monday!).
I decided it could use some embellishment, so I headed over to the neighbourhood bead shop and picked up some pretty gold beads, figured out how to wrangle them onto the yarn,
et voila
.
I wrapped up the scarf with a nice bar of Verbena-scented soap and mailed it off on Wednesday.