This was my first cardigan, first adult-sized garment, and it was a wonderful project. I really enjoyed it: the pattern, the yarn, the sense of accomplishment! I found that once I got through the yoke and worked a few repeats of the lace pattern, I didn't go back to the pattern at all. It was very easy to figure out the next step, and the seagull lace was easily memorised. (Though I have to say, I think that "seagull lace" is a misnomer. Can't decide what I would have named it, but my mother suggested "flying geese.")
Pattern:
February Lady Sweater
by Pamela Wynne
Yarn:
Sirdar Click DK with Wool
Needles:
5mm, 4.5mm, 3.75mm
New skills:
full-sized garment! Modified to fit just me! Reversible, 1-row buttonholes!
I had some early frustration: I knit the entire yoke and then ripped it out… four times. THE ENTIRE YOKE. As my gauge and yarn weight were slightly different from the pattern, I knew from the beginning that I would have to modify the number of CO sts. I also knew that I would omit the eyelet row, as my bosom isn't exactly busting out of my tops. However, I had some difficulties with numbers: the lace pattern is over 7sts, so I had to work it so that front pieces, sleeves, and the back section each had a number of stitches divisible by 7. I realised this a little late, as I would have preferred to work it all out before casting on. Well, live and learn. So, I made an Excel spreadsheet. Seriously. I am not mathematically inclined, and was getting really frustrated as I kept knitting and frogging, knitting and frogging… the spreadsheet really made everything so clear!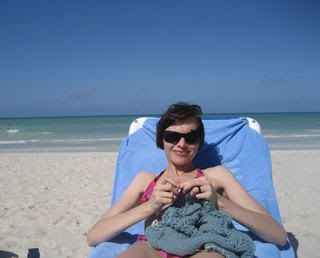 I brought the cardigan with me on my family's Christmas trip to Cuba. (As soon as I found out that the tickets had been booked, I confirmed that I could bring my knitting needles on the plane. While it was much too cramped to actually knit when we were in the air, it was great to have them with me for the hours spent waiting at the gate.) My goal was to finish knitting the body when I was there -- and I would have, but I ran out of yarn with only a few rows left on the hem. Should have brought that second ball of yarn! The picture at right was snapped on Christmas Day.


I modified this quite heavily to suit me: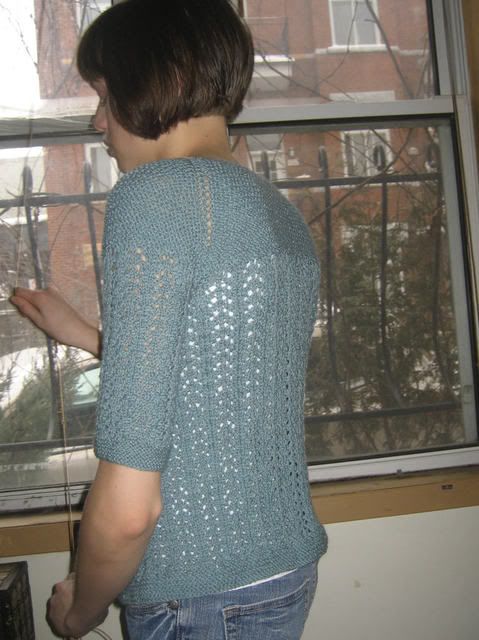 Needles: As you can tell from the picture, I made my sweater a little more fitted than the pattern called for. The yoke was knit on 5mm needles; about half-way down the body I switched to 4.5mm needles. I did this because I noticed that several sweaters on Ravelry seemed to sag in the back. I am quite slim, so I wanted it to be more fitted. As I wanted fitted sleeves, I picked up the sleeve stitches with 5mm needles and worked one round, then switched to 4.5mm to continue the sleeves. The cuffs were done with on 3.75mms, as I found the garter st was too loose at 4mm.

Yoke: CO 83sts; increased to 231 before starting lace pattern. (If you're following the math, this meant one final row of raglan increases that was different from all the others.) Omitted eyelet row.
Buttons and Buttonholes: 4 buttonholes worked for 4sts and spaced over 12 rows. I chose quality metal buttons with shanks, and sewed small plastic buttons on the reverse. This is the best way that I know to sew buttons to knits!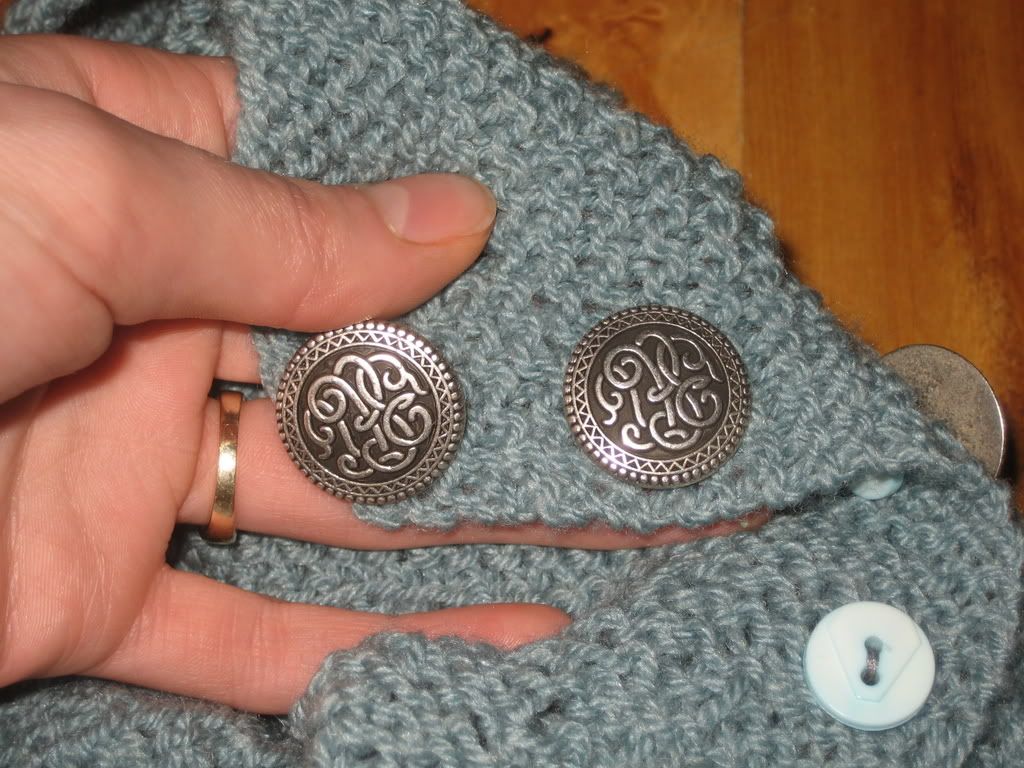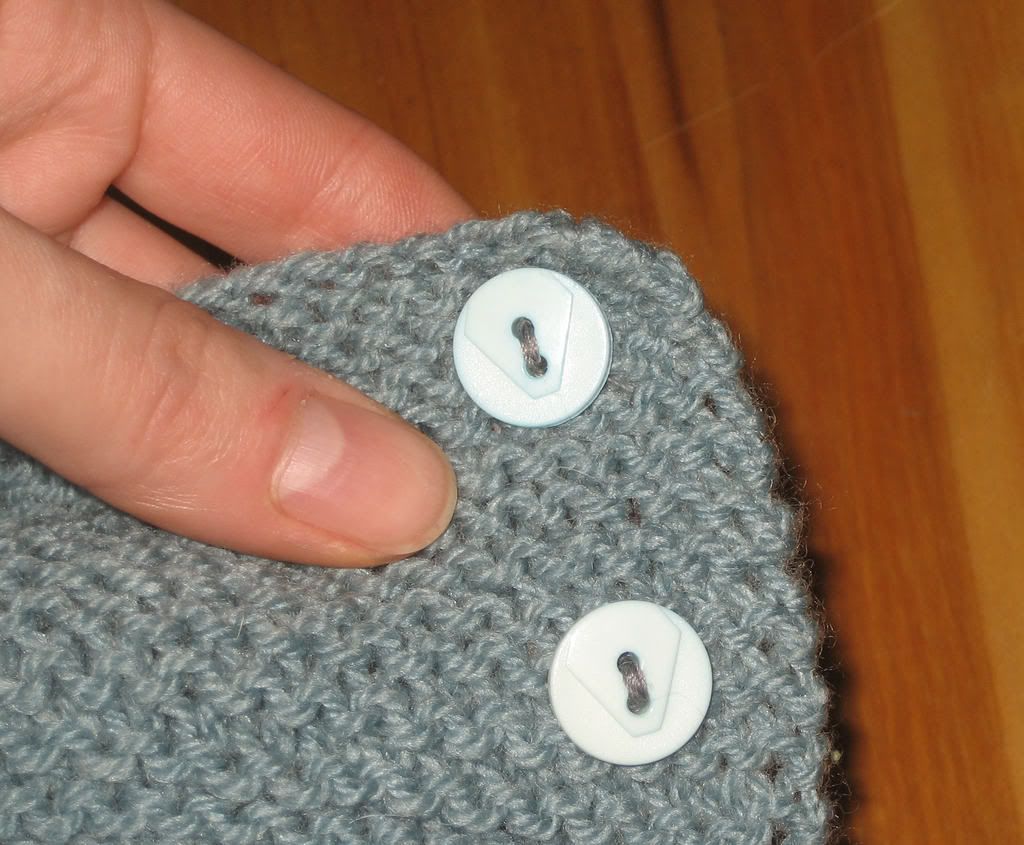 Sleeves: I was thinking of making this long-sleeved, but I had no clue how to work decreases into the lace pattern (so that the sleeve would remain fitted – I'm not a fan of the baggy sleeves seen on the Ravelry project pages). Once I knit the first sleeve and tried it on, I decided it was great as-is, and scrapped the idea of figuring out the decreases. The cuffs (as well as the hem at the bottom of the body) were knit to match the width of the garter stitch edging.

Yarn: Sirdar Click is a lovely, springy DK blend of 30Wool/70Acrylic. I usually shun acrylic, but this is just such a nice yarn. It is soft, lustrous, a beautiful teal colour, and a real pleasure to knit with. I picked it up from Knit Knackers in Ottawa, where it cost $4.99/ball last autumn. With 150m per ball, what a steal! I didn't keep track of the number of balls I used – I am 98% sure it was four-and-a-bit, but I'd say five-and-a-bit to be safe.

All in all, this was a well-written pattern knit up with lovely yarn. I'm very happy with the finished product, and highly recommend it as a "first garment" project.